AI-powered workflow automation isn't new, but it's come a long way since the early 2000's, when the idea of leveraging analytics technology to drive change was still in its infancy
The market for smarter healthcare technology is soaring, and artificial intelligence (AI) technology is one of the most vibrant and exciting subsets. It's defining the futures of most industries. The AI healthcare market, for example, is expected to expand from $2.1 billion to $36.1 billion in 2025, according to just one projection.
How to Get Started with Revenue Cycle Workflow Automation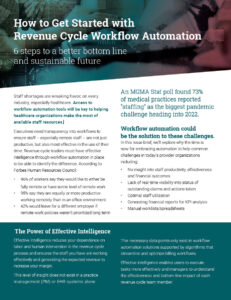 Effective Intelligence Resources
Effective Intelligence Suite
Margin is the key to success in healthcare. You cannot maximize it without real-time metrics in your revenue cycle. Take the 3 minute quiz to find out your Effective Intelligence Quotient (EiQ).
Explore the journey Rebound Orthopedics & Neurosurgery, a 75-provider group, took to lay the foundation for Effective Intelligence, improving net collection rate and reducing avoidable write-offs.