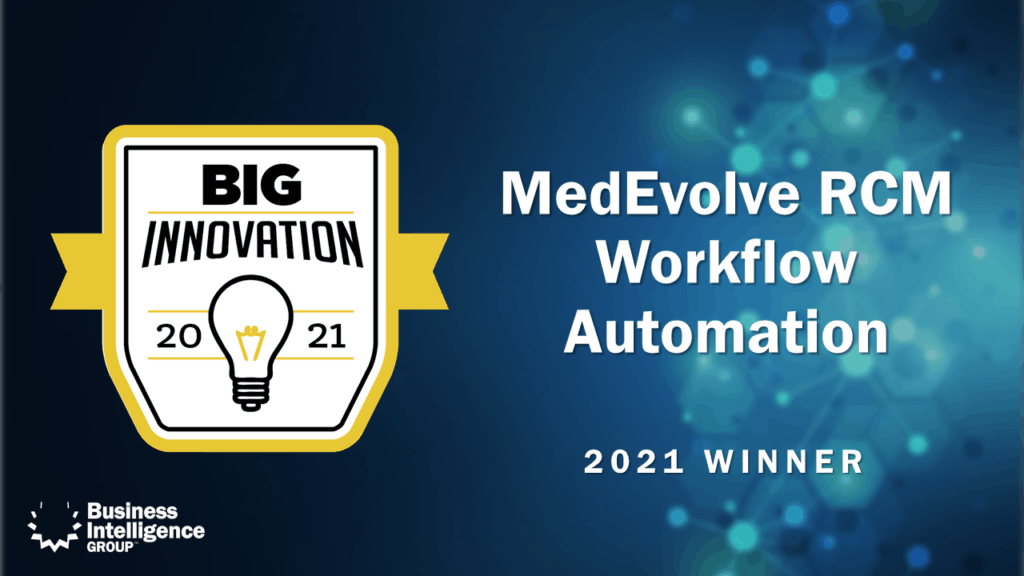 Little Rock, Ark. —January 13, 2021— MedEvolve, Inc., a leading provider of data-driven solutions that provide unmatched transparency, automation and accountability for healthcare organizations, today announced it has been named a winner in the 2021 BIG Innovation Awards presented by the Business Intelligence Group. 
MedEvolve RCM Workflow Automation has been an essential technology solution for physician groups and medical billing companies in the age of COVID. In the current climate, the ability to monitor and measure staff performance, productivity and effectiveness, streamline front and back-office workflows, reduce the cost to collect, and have total transparency into every dollar in the revenue cycle are keys to healthcare organizations' ability to maintain profitability. 
"We are proud to be recognized in this exclusive group of innovators from around the globe. Although MedEvolve RCM Workflow Automation was not designed for a pandemic, it has been perfectly aligned with the needs of healthcare billing teams during this time," said Matt Rolfes, President and CEO of MedEvolve. "Our own billing team began working from home within 24 hours of the office closing last April, and they continue to work from home today. The team has been more effective than ever before."
MedEvolve RCM Workflow Automation has been a true game changer because it has given physician billing groups the ability to mobilize a virtual workforce during shutdowns while having total transparency into when staff is working and how effectively they are doing their jobs. The new innovations that were added last year, including virtual communication and task management have revolutionized the way billing team manage their workload. 
Additionally, the solution has helped healthcare organizations reduce their cost to collect and align expenses to revenue, which will be critical for their survival in 2021 and beyond. RCM Workflow Automation has also helped practice administrators understand their staffing needs based on workload and balance the workload among their staff.
"More than ever, the global society relies on innovation to help progress humanity and make our lives more productive, healthy and comfortable," said Maria Jimenez, chief operating officer of the Business Intelligence Group. "We are thrilled to be honoring MedEvolve as they are one of the organizations leading this charge and helping humanity progress."
Organizations from across the globe submitted their recent innovations for consideration in the BIG Innovation Awards. Nominations were then judged by a select group of business leaders and executives who volunteer their time and expertise to score submissions.
About Business Intelligence Group
The Business Intelligence Group was founded with the mission of recognizing true talent and superior performance in the business world. Unlike other industry award programs, these programs are judged by business executives having experience and knowledge. The organization's proprietary and unique scoring system selectively measures performance across multiple business domains and then rewards those companies whose achievements stand above those of their peers.
Contacts
Ashley M. Deitsch
VP of Marketing
MedEvolve
ashley.deitsch@medevolve.com
1.800.964.5129 X4
Maria Jimenez
Chief Operating Officer
Business Intelligence Group
jmaria@bintelligence.com
+1 (909) 529-2737