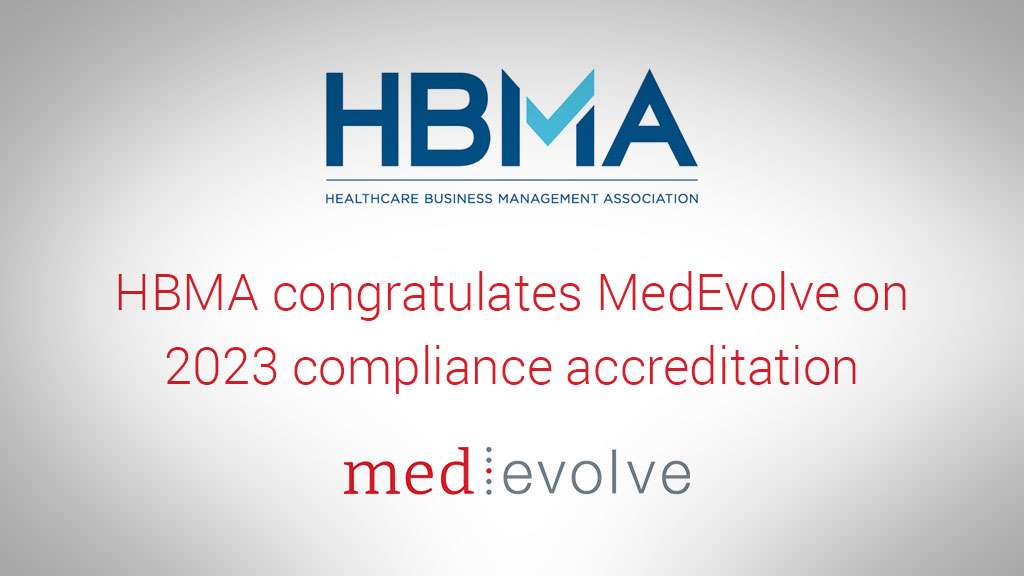 MedEvolve is recognized by the program to protect patient privacy, prevent medical billing fraud, and comply with federal regulations
February 6, 2023 (Laguna Beach) – Today the Healthcare Business Management Association (HBMA) announced that MedEvolve is now accredited under the HBMA Compliance Accreditation Program for revenue cycle management (RCM) companies (a.k.a., medical billing and medical practice management companies) and offered its congratulations. The HBMA Compliance Accreditation Program is designed to assess compliance with a range of federal healthcare industry regulations, including provisions to protect patient privacy under HIPAA, promote cybersecurity, and prevent fraud, waste, and abuse in medical billing.
MedEvolve, Inc., headquartered in Little Rock, Arkansas, is a leading provider of effective intelligence solutions that help organizations recognize, reward and retain their best revenue cycle employees to reduce labor costs and increase margin. "MedEvolve is proud to have achieved this rigorous accreditation for the fourth year in a row. HBMA Compliance Accreditation reinforces our commitment to providing our healthcare clients with secure, compliant and trustworthy revenue cycle services and technology," said Matt Rolfes, CEO of MedEvolve. "We will continue to hold ourselves accountable to the highest standards of medical billing practices."
"HBMA understands that medical billing and revenue cycle management companies operate in a complex, highly regulated profession, fraught with high consequences for fraud, waste and abuse.  By achieving HBMA compliance accreditation, MedEvolve has demonstrated by independent evaluation that their practices surpass federal requirements to protect confidential patient medical information, secure their data systems, and prevent fraud," said Jennifer Hicks, president of HBMA.
The HBMA Compliance Accreditation Program is the result of the RCM industry coming together within HBMA to establish a process to independently assess the participating company's program to fulfill its obligation to meet regulatory requirements. The HBMA Compliance Accreditation Program assesses compliance with HIPAA and with Health and Human Service Office of Inspector General compliance standards on fraud, waste and abuse; the Stark Law, which is designed to prevent conflicts of interest by medical providers in their prescribed patient care; federal Anti-kickback law; and the OIG work plan. The assessment under the HBMA Compliance Accreditation Program includes a comprehensive evaluation of the policies and practices of RCM companies with respect to employee training; security risks, including the security of confidential patient health information; documentation storage and handling; practices to promote compliance with federal regulations; disaster and emergency preparedness plans; and human resources practices, including background check procedures and onboarding.