Revenue cycle automation has been a process, not a destination for Columbia Orthopaedic Group, and so far, automated financial clearance and A/R workflows have improved efficiency.
Revenue cycle management is ripe for innovation and disruption, according to the majority of respondents to a survey recently conducted by market research firm KLAS and the Center for Connected Medicine. Yet, providers continue to face barriers, such as fragmented technology and even a lack of available solutions, the survey found.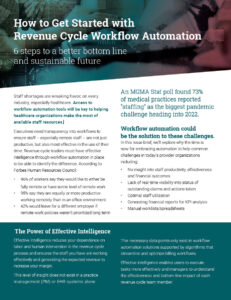 How to Get Started with Revenue Cycle Workflow Automation
Effective Intelligence Resources
Margin is the key to success in healthcare. You cannot maximize it without real-time metrics in your revenue cycle. Take the 3 minute quiz to find out your Effective Intelligence Quotient (EiQ).