Financial clearance includes all the steps your practice should take leading up to a patient appointment. Unfortunately, many groups don't have a consistent process. This is why MedEvolve developed Financial Clearance Workflow Automation – to do the work for you:
Verify insurance and co-insurance
Confirm insurance benefit coverage
Estimate patient liability
Collect projected balance and prior balances (or deposit or CC on file)
Validate demographic information
Check authorization requirements and secure prior authorization
Workflow automation ensures your staff are following best practices and automates manual processes to prevent human error. The built in analytics provides feedback to staff on areas of process improvement.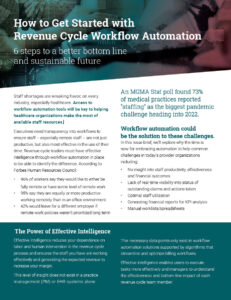 How to Get Started with Revenue Cycle Workflow Automation
Effective Intelligence Resources
Effective Intelligence Suite
Margin is the key to success in healthcare. You cannot maximize it without real-time metrics in your revenue cycle. Take the 3 minute quiz to find out your Effective Intelligence Quotient (EiQ).
Explore the journey Rebound Orthopedics & Neurosurgery, a 75-provider group, took to lay the foundation for Effective Intelligence, improving net collection rate and reducing avoidable write-offs.