In this session, a controller at a large group practice will discuss how she took a technology-centric approach to improve staff productivity. Gain an inside look from the implementation of analytics solutions and RCM workflow automation to embrace a more proactive, evidence-based claims management strategy. Explore how her vision for leveraging the power of A.I. resulted in annual revenue improvement and a reduction in staffing requirements. Identify how you can improve your revenue cycle management process by automating your front-end financial clearance processes, and back-end accounts receivables management using workflow automation. Attendees will learn how to analyze existing in-house billing and collections processes and identify opportunities to improve processes and productivity.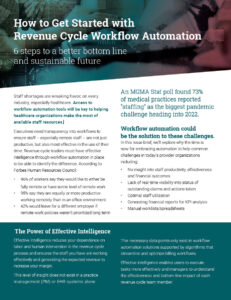 How to Get Started with Revenue Cycle Workflow Automation
Effective Intelligence Resources
Effective Intelligence Suite
Margin is the key to success in healthcare. You cannot maximize it without real-time metrics in your revenue cycle. Take the 3 minute quiz to find out your Effective Intelligence Quotient (EiQ).
Explore the journey Rebound Orthopedics & Neurosurgery, a 75-provider group, took to lay the foundation for Effective Intelligence, improving net collection rate and reducing avoidable write-offs.