How labor costs affect margin
Hello everybody. This is Matt Seefeld, Executive Vice President of Medevolve. Today, we're going to talk about Effective Intelligence and really focus on the labor side of the margin triangle.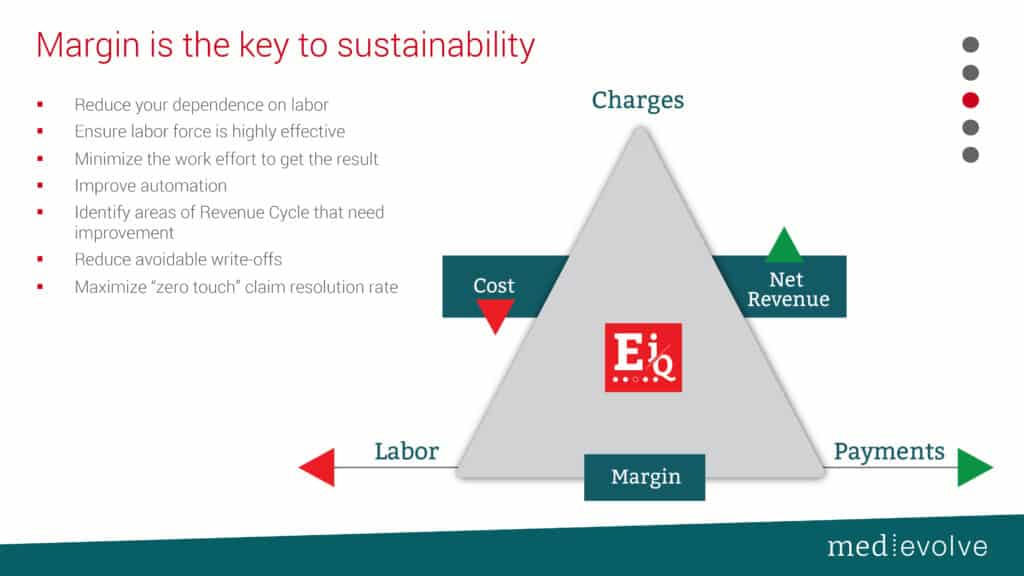 Every conversation I'm having now with clients and prospects focuses around labor staff issues – shortages, high turnover, demanding more salary, better hourly rates. Also, everybody wants to work from home. There is so much complexity regarding the cost side of managing a revenue cycle. So, how do you identify in real time where humans are having to get involved in the process? Because when humans get involved in the process, costs go up and your net revenue starts to decline which in turn impacts margin. I think everyone can attest that with no margin there is no mission and cash flow is a good thing. Why is this a challenge?
What Practice Management Systems Can't Do
Practice management systems have not and will not deploy the workflow automation and task management system solutions that capture all of the structured data necessary to measure each unit of work done by a revenue cycle FTE that you are paying money for. Twenty years ago when I started my career in revenue cycle management, I would have thought, yes, they would figure it out. Guess what? Here we are in 2022, and they still haven't figured it out. That means you need to find workflow automation and task management that can sit on top of any PM system. Instead of using a limited data set from a practice management system and finding the right data that your staff can use to warrant the work they are doing, now you can actually measure the outcome or what we at Medevolve call "effectiveness."
Knowing Work Effort Rate in Your Revenue Cycle Helps to Evaluate Problems in the Process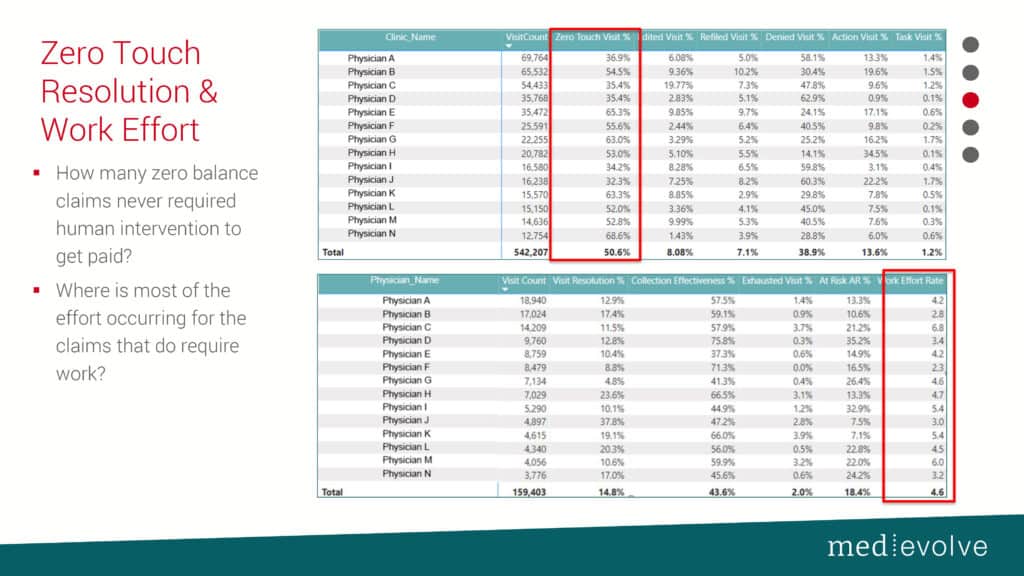 We can start answering questions in real time, like, What is your work effort rate? How many claims/charges get paid without a human touching it? We can't know if we are just relying on practice management data. They are not capturing everything you need to measure every unit of work. When I look at views like this, it starts to provide real transparency in real time as to where I need to focus my effort to reduce my dependence on labor. If you look at the zero touch rate in this client above, for example, 50.6% of the charges that go out get paid without a human touch, but half of the charge require a human touch. You can see what percentage of work effort (4.6) is going to clearing the edits. Look at the refile visits rate (7.1%) and the denials (38.9%) in the screenshot above by certain physicians. What's going on in financial clearance and in coding? What are we not doing right that a human is now having to correct and hopefully get paid what we are suppose to be paid in a reasonable amount of time. Look at the work effort into getting claims paid.
These are measurements that you need to have especially in this day and age where everyone wants higher pay and to work from home. So you have to reduce your labor dependence. We have to go back to the basics of profit margin. Automation is critical, but automation is not going to solve the human problem in its entirety. You will always have humans involved in a process within the healthcare revenue cycle. The key is to minimize that, but you can't if you aren't aware of where the breakdown is occurring.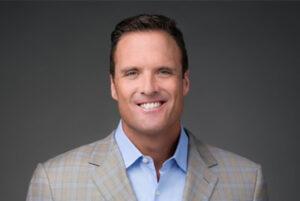 Matt Seefeld, Executive Vice President at MedEvolve, brings over 24 years of management consulting experience in the healthcare industry. He has extensive expertise in the assessment, design and implementation of process improvement programs and technology development across the entire revenue cycle. Matt began his career with Stockamp & Associates, Inc. and worked for both PricewaterhouseCoopers LLP and Deloitte Consulting LLP in their healthcare and life sciences practice lines. In 2007, he developed a business intelligence solution and founded Interpoint Partners, LLC, where he served as Chairman and Chief Executive Officer. In 2011, he sold his business to Streamline Health Solutions where he then served as Chief Strategist of Revenue Cycle followed by Senior Vice President of Solutions Strategy until 2014. Matt ran global sales for NantHealth and provided consulting services for healthcare technology and service businesses nationwide, prior to joining MedEvolve full-time.
The Power of Effective Intelligence to Overcome Revenue Cycle Management Challenges