Automation & reporting allow large urology practice to process code faster
My name is Maryanne Thompson. I'm the controller at Academic Urology. We're based out of a suburb of Philadelphia, Pennsylvania. Prior to using MedEvolve Practice Management Software, we used Athena and we decided to bring our billing and practice management in house. So after doing some research, we decided to go with MedEvolve. I can think of so many ways that they not only make my job easier as a manager, but just the automation makes it so much more productive on the user level. The amount of claims that we go through in a day is absolutely mind boggling. And the resources that we have in MedEvolve allow us to go through hundreds of thousands of code and information seamlessly and daily across all the spectrums of our lines of business. As a manager, I like the reporting. I like the fact that my users have great support with MedEvolve support.
Support & integration improve patient experience
When your entire platform is electronic from the minute a patient comes in the door to the minute we get the bill out, we want the patient experience to be seamless and we want to get paid seamlessly. So one of the things that I find to be exceptional in the world of electronics, when it comes to MedEvolve is the support that we get. Academic Urology is always growing and changing, so the need to be able to integrate all of our software is just paramount. We have several lines of business that all have their own unique platforms, and it's highly beneficial to the efficiency of our work that MedEvolve can integrate with them. I find from a business partner perspective, that MedEvolve is usually the one that's out there that's making it happen. They have become a PM vendor partner that I really could not see going into the future without. Our particular business is growing and we are looking to merge and move forward, and I've already recommended MedEvolve to my new partners. That makes me feel good to be able to do that. I appreciate and respect that MedEvolve has made the investment that they have, and we look forward to a long and prosperous relationship.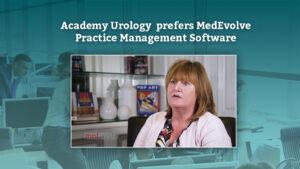 When Academic Urology of Pennsylvania's Controller, MaryAnne Thompson, wanted to shift practice management and billing in-house, she needed a company able to handle hundreds of
thousands of claims daily and provide services in real time. Her preferred choice was MedEvolve for practice management, practice analytics and occasional revenue cycle management projects. When Thompson leans on MedEvolve for support and new projects, she knows that MedEvolve shares Academic Urology's goals – and that meeting them is a mutual success.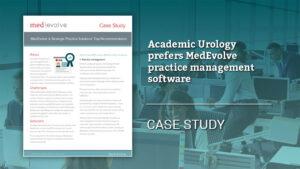 Automation available in MedEvolve Practice Management significantly increased user productivity & made the process smooth & reliable.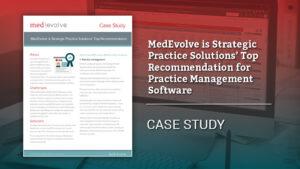 MedEvolve's robust practice management software gives Strategic Practice Solutions a robust solution for all their clients.