More Client Success Stories
Prior to workflow automation, MidLantic anticipated needing to hire 8 employees and create a new department focused solely on A/R to support the centralized billing office. However, by streamlining RCM processes through workflow automation and focusing only on the 10-20% of claims that need to be worked each day, MidLantic cut their anticipated staffing requirements in half without adding a new department.
The Power of Effective Intelligence to Overcome Revenue Cycle Management Challenges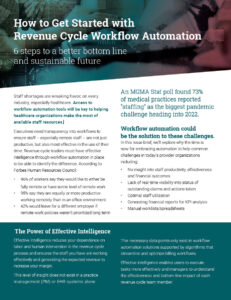 How to Get Started with Revenue Cycle Workflow Automation
Effective Intelligence Resources
Effective Intelligence Suite
Margin is the key to success in healthcare. You cannot maximize it without real-time metrics in your revenue cycle. Take the 3 minute quiz to find out your Effective Intelligence Quotient (EiQ).
Explore the journey Rebound Orthopedics & Neurosurgery, a 75-provider group, took to lay the foundation for Effective Intelligence, improving net collection rate and reducing avoidable write-offs.