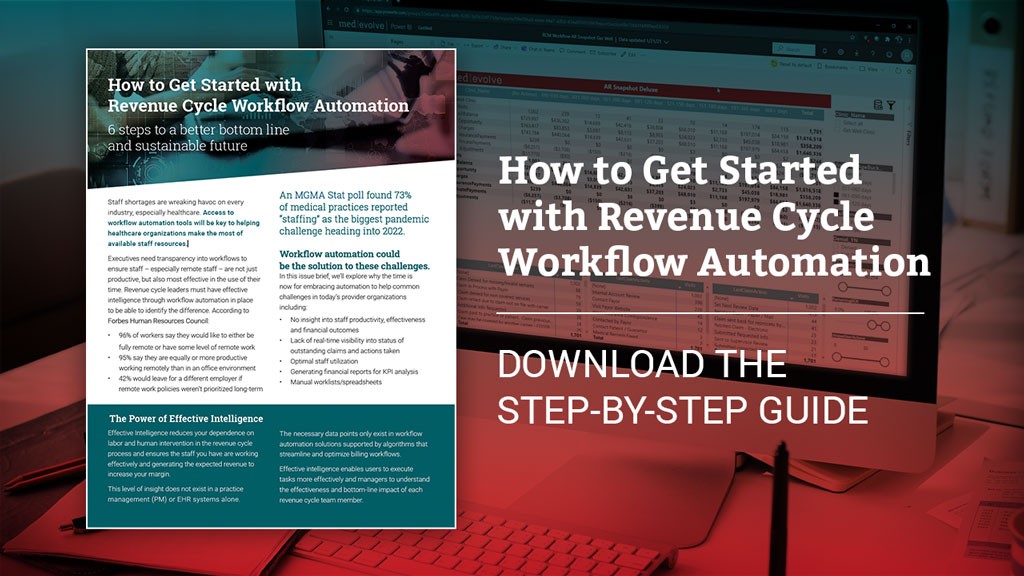 Staff shortages are wreaking havoc on every industry, especially healthcare
 An MGMA Stat poll found 73% of medical practices reported "staffing" as the biggest pandemic challenge heading into 2022. Access to workflow automation tools in both the front office and back office will be key to helping healthcare organizations make the most of available staff resources. 
Executives need transparency into workflows to ensure staff – especially remote staff – are not just productive, but also most effective in the use of their time. Revenue cycle leaders must have effective intelligence through workflow automation in place to be able to identify the difference. According to Forbes Human Resources Council: 
96% of workers say they would like to either be fully remote or have some level of remote work
95% say they are equally or more productive working remotely than in an office environment
42% would leave for a different employer if remote work policies weren't prioritized long-term

 
Six steps to a better bottom line and sustainable future
How to Get Started with Revenue Cycle Workflow Automation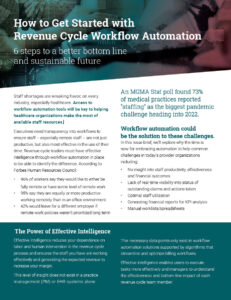 Effective Intelligence Resources
Effective Intelligence Suite
Margin is the key to success in healthcare. You cannot maximize it without real-time metrics in your revenue cycle. Take the 3 minute quiz to find out your Effective Intelligence Quotient (EiQ).
Explore the journey Rebound Orthopedics & Neurosurgery, a 75-provider group, took to lay the foundation for Effective Intelligence, improving net collection rate and reducing avoidable write-offs.