Supply chain & labor costs are going up & will normalize at higher prices
I spoke at MGMA and HBMA recently, and it was awesome to just be a part of that audience and listen to the fears that are going on and trying to figure out if there ways in which we can curb some of those fears. Are there technology approaches that could give back some of that margin that's being lost? When we look at the macro challenges in healthcare, a few factors come to mind.
Healthcare organizations are paying more for supply chain and labor costs today than they were a year ago. Those prices will keep going up, and I don't think they will retract. Unemployment is still at a record low, and open job positions are still at a record high. So people are not going be loyal to you. Employee turnover is going to drive your cost of hiring and retraining, because people are looking for jobs right now, not careers.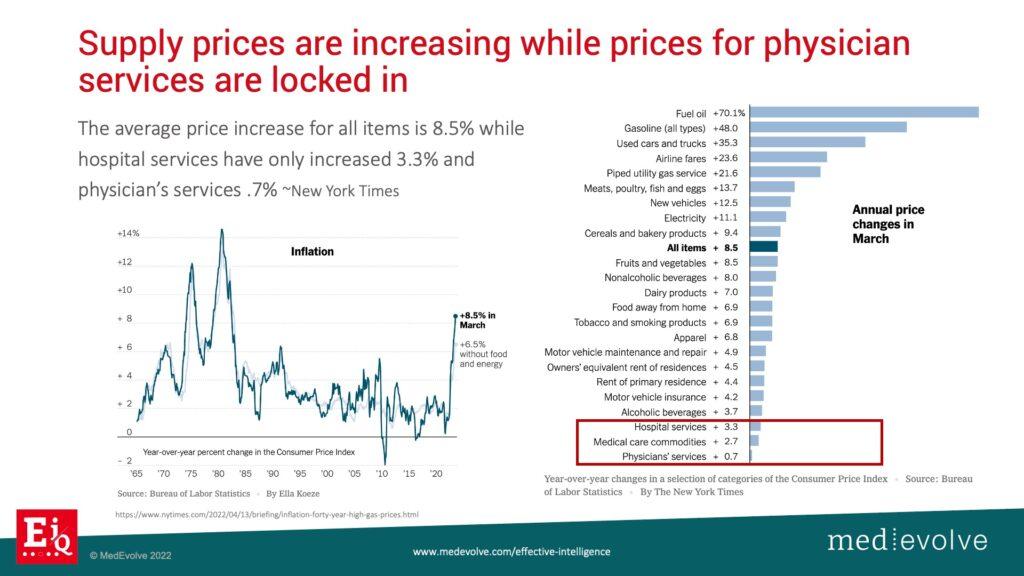 Consumers delaying elective procedures & deferring medical bills because of inflation
Now, let's look at the consumer challenges. We are all consumers paying more money today just to live. So healthcare bills start to become a little less important. The consumer may want to pay you, but can't pay it up front. Maybe they can only pay you a little bit each month for a year. However, if they lose their job based on the recession that's coming, then they probably won't pay you at all. The consumer would rather pay for food, housing, and heat. They will also postponing the elective procedure until a later date until it becomes more of an emergency because they are unable to pay you 50% upfront.
These consumer considerations negatively impact your revenue cycle. If you are a part of a health system or hospital handling emergency situations, your pressure on bad debt is will get worse. During a recession, the ER becomes a primary care clinic. Then you have trauma patients that come in with no ability to pay or are unwilling to pay. You need to try to collect what you can up front. However, the patient may not be able to pay you in full. They may need extra flexibility with paying their medical bills.
Healthcare industry is unable to simply increase cost to consumer like other industries
Other industries have been able to raise prices and push it on to the consumer, except for healthcare. "Hey, Blue Cross, I pay 15% more now for people and supplies. Can you increase my fee schedule appropriately? Sure, Matt, that sounds great. We'll just go ahead and do that for you and impact our own profit margin."
"Dear Medicare, please stop cutting reimbursement." It's not likely going to happen. So reimbursement is flat or declining which is putting pressure now on our friend, margin.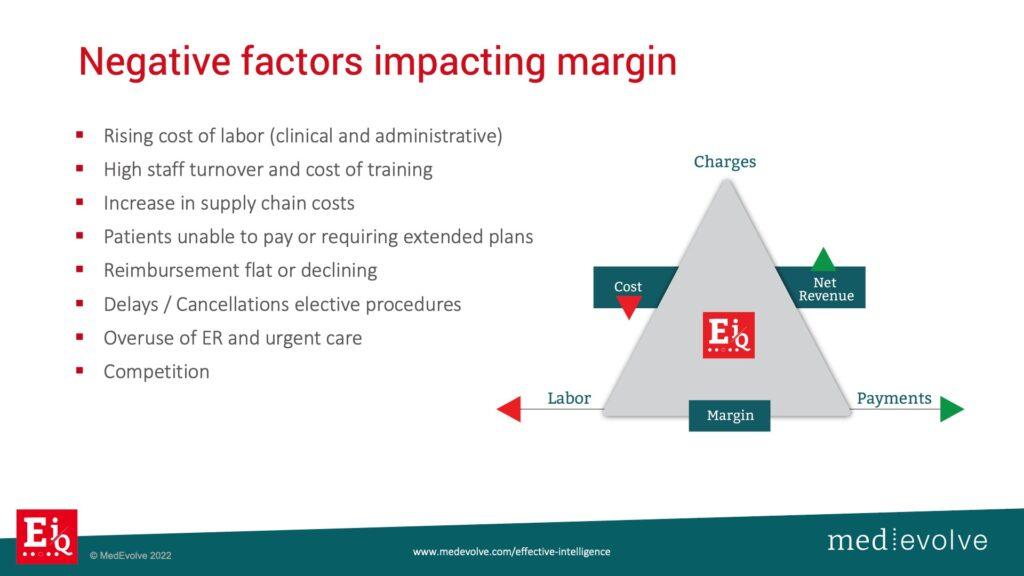 What do healthcare organizations have control over to get some margin back?
You can't have all of your margin back, but what if you could have some of it back? What is within your control? What's in your control is whether you have the capability to measure the effectiveness (not productivity) of the people that are running your revenue cycle. You need effective people that are inspired, motivated and incentivized to get the job done as quickly as possible with the best outcome possible, and the least amount of work effort. You also need to have the ability to truly understand total work effort, meaning every single touch that it took from a human, including new physicians, to get a claim paid. Unfortunately, your practice management system cannot answer those questions.
Measuring the work effort and incentivizing the revenue cycle staff
Important measurements in our Effective Intelligence real-time analytics like zero touch rate will show how many claims were paid without intervention from a human. When your back office medical billing team does have to get involved, you want to know where and to what extent so you can prioritize claim types. Is it denials? Is it refiling? Is it clearinghouse edits? Is it tasking? Is it all the back and forth communication of accountability? Every time someone passes a claim off to someone else without resolution, that increases your labor costs. Also, that money costs you 15% more than it did a year ago.
How do you motivate your revenue cycle team to stay and perform well? Top performers need individual recognition and compensation for effectiveness and low performers need objective feedback for improvement. You can't do those things if you can't measure it.
If we want to recoup any of the margin that's being taken away from us, it's time to mature our thinking. Upgrade your PM system and get the capabilities to successfully manage your labor costs. Gamify the experience for your highly incentivized employees, hold everyone accountable, and become lean and effective.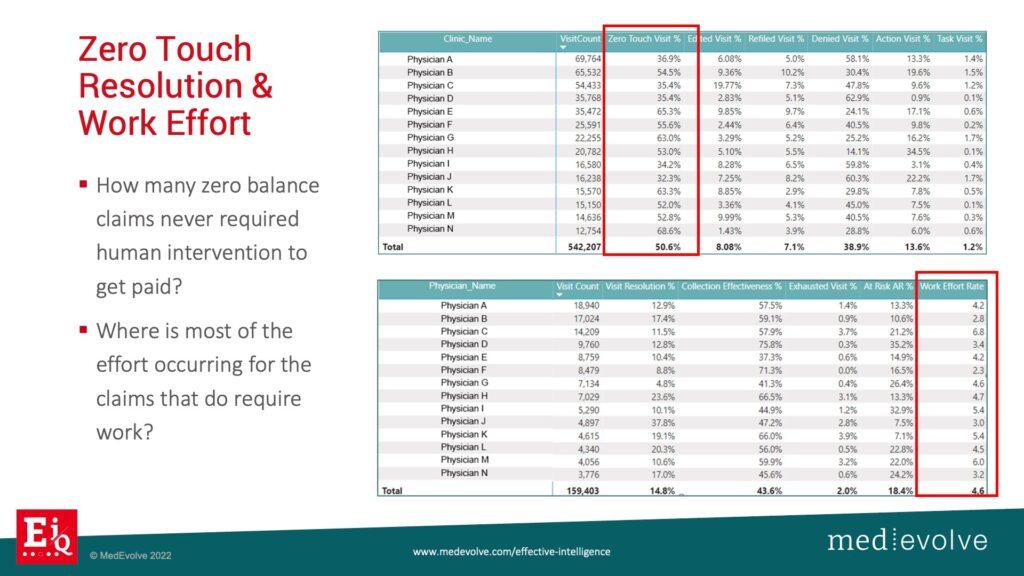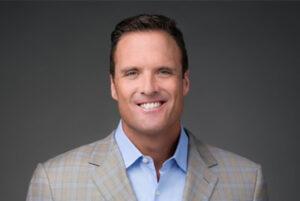 Matt Seefeld, Executive Vice President at MedEvolve, brings over 24 years of management consulting experience in the healthcare industry. He has extensive expertise in the assessment, design and implementation of process improvement programs and technology development across the entire revenue cycle. Matt began his career with Stockamp & Associates, Inc. and worked for both PricewaterhouseCoopers LLP and Deloitte Consulting LLP in their healthcare and life sciences practice lines. In 2007, he developed a business intelligence solution and founded Interpoint Partners, LLC, where he served as Chairman and Chief Executive Officer. In 2011, he sold his business to Streamline Health Solutions where he then served as Chief Strategist of Revenue Cycle followed by Senior Vice President of Solutions Strategy until 2014. Matt ran global sales for NantHealth and provided consulting services for healthcare technology and service businesses nationwide, prior to joining MedEvolve full-time.
Effective Intelligence Resources
Effective Intelligence Suite
Margin is the key to success in healthcare. You cannot maximize it without real-time metrics in your revenue cycle. Take the 3 minute quiz to find out your Effective Intelligence Quotient (EiQ).
Explore the journey Rebound Orthopedics & Neurosurgery, a 75-provider group, took to lay the foundation for Effective Intelligence, improving net collection rate and reducing avoidable write-offs.