What does Effective Intelligence do?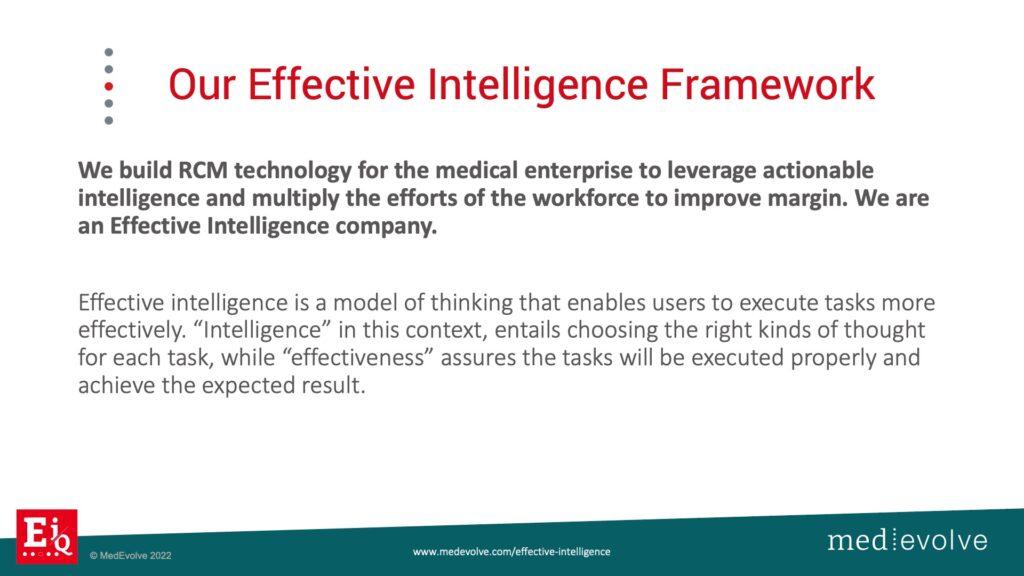 Effective Intelligence in your revenue cycle is so important in this unstable economy and job market. The ability to measure the effectiveness of your staff should be priority number one. What is effective intelligence? I have spent 23 years in the RCM business as a consultant and a vendor trying to figure out how to build technology to make us work smarter, not harder. I've seen the upswing in what we used to call data analytics. There are many dashboards out there, but the information lacks intelligence. Healthcare executives need to be able to look at information and make decisions on what needs to be done in near real time. They should not have to go find information and then try to put it into a sequence in order to tell a story. The story should be easy to read in a couple minutes over a cup of coffee, clear for decision-making, and measurable for effectiveness. Now, the biggest missing link here is what do we have access to to measure labor effectiveness? I got plenty of revenue cycle metrics, but what can we use to measure labor effectiveness, work effort, and result.
MedEvolve improved margin & revived medical billing services business by building workflow automation in house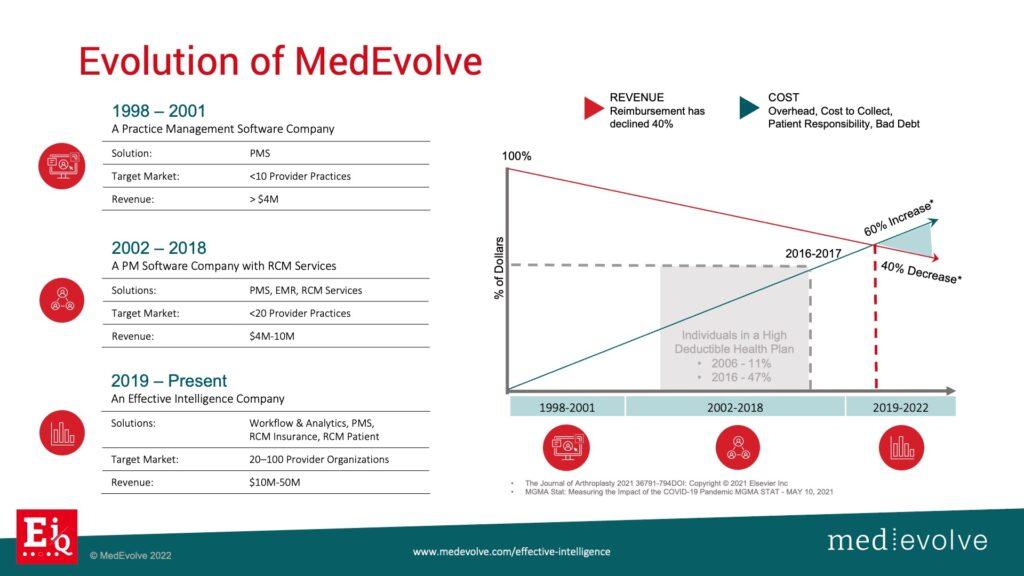 Our company, MedEvolve, started out as a practice management software company in 1998 then was later asked to take over RCM services for many of their clients. Fast forward to 2017, and we found ourselves in a situation where our services business was struggling to maintain margin. We were suffering from some of the macro triggers that are going on right now in healthcare that are probably impacting your margin as well. We had to take a hard look at our technology and start to ask our questions. Do we have the right software in place that's agile and collects the structure data that the PM system is not collecting that will allow us to measure effectiveness? The answer was no. So we started this journey which has been an amazing one, and we continue to push the boundaries. I always tell our development teams that we are going for the horizon line. We will never reach it, but we are going to innovate and disrupt this industry along the way.
Medical reimbursements are flat or declining while cost, including labor, are increasing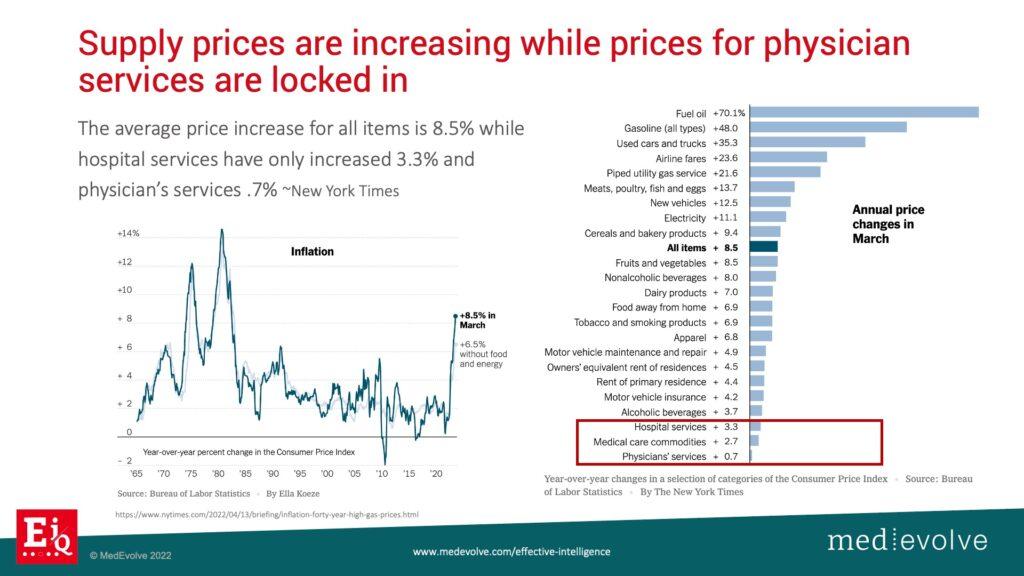 The statistics above are no surprise to any of us. The higher cost of basic needs, groceries, gasoline are not going to change anytime soon. Prices will probably normalize at these higher values. So, where does that leave healthcare? Every other industry out there has had the luxury of raising their own prices. Hospitals, health systems, and provider groups do not have that luxury. Insurance groups will not increase their fee schedules because they feel bad for you. In fact, Medicare keeps coming out with more proposed cuts for 2023 and beyond. Healthcare organizations are already getting hit on reimbursement. We are already dealing with the same issues and challenges of trying to get paid for the services we are delivering on behalf of insurance company patients. Now we have this other factor of having to pay 15% to 20% more for labor and supplies to deliver those services while our reimbursement is flat or declining.
The negative factors that you don't control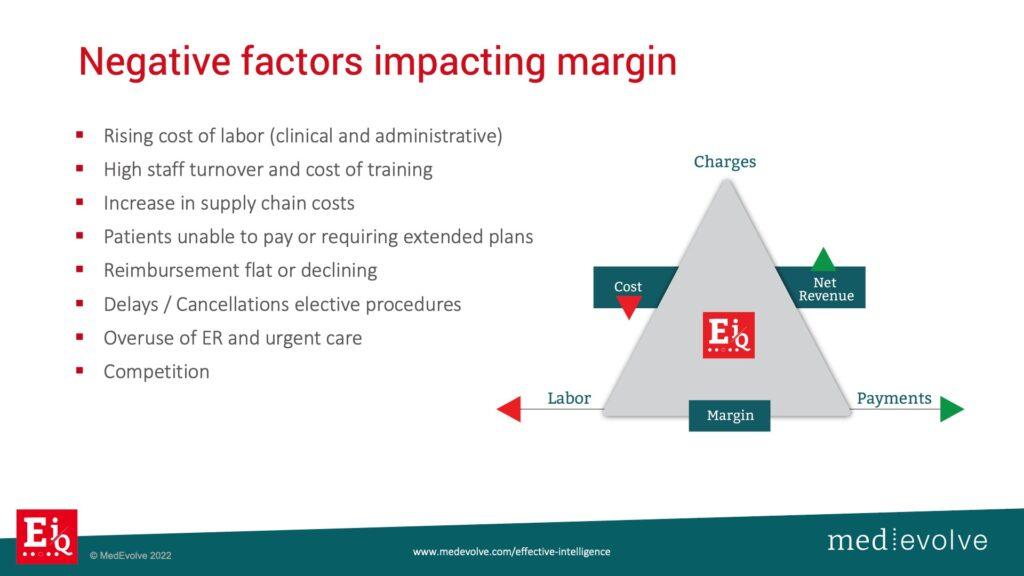 Notice the list above of the negative factors impacting margin that you do not control anymore. Provider incomes are going down 15% to 20%. The cost of doing business now and in the future is a lot higher than it was a year ago. The rising cost of labor is making it more difficult to find clinicians, medical assistants, billers, and administrative staff. Then, the ones that you do find want to work remotely with a lot more flexibility and more money. Our HR executive explained that we are in a situation where people are not looking for careers anymore, they are looking for jobs. So part of our journey here at MedEvolve is how do we then bring back this concept of career to our medical billing team? We reward and incentivize our high performers to encourage them to stay at our company. The cost of training and high staff turnover are astronomical. Seasoned revenue cycle professionals training new billers who then leave within 30 days. Onboarding, setting up benefits, setting up access to IT systems are all expensive and killing our margins. Supply chains are also charging a lot more for the supplies to deliver the services to the healthcare industry.
The consumer is starting to make harder choices on how they spend their money. So if they have an elective surgery and they need it, but the pain's not that bad, they may hold off, reschedule, or cancel it and wait for a later time. The consumer is going pay for food, shelter, and heat before they pay their healthcare bills. For those of you that are in the hospital setting with emergency rooms, I'm empathetic to your situation, because I know that those bad debts are increasing. For those of you that are an elective surgical market, you have a little bit more control over your patient & payer mix. However, you need to collect as much money as you can before you deliver the service. You need to have flexibility in your payment plans.
What can you control in your revenue cycle?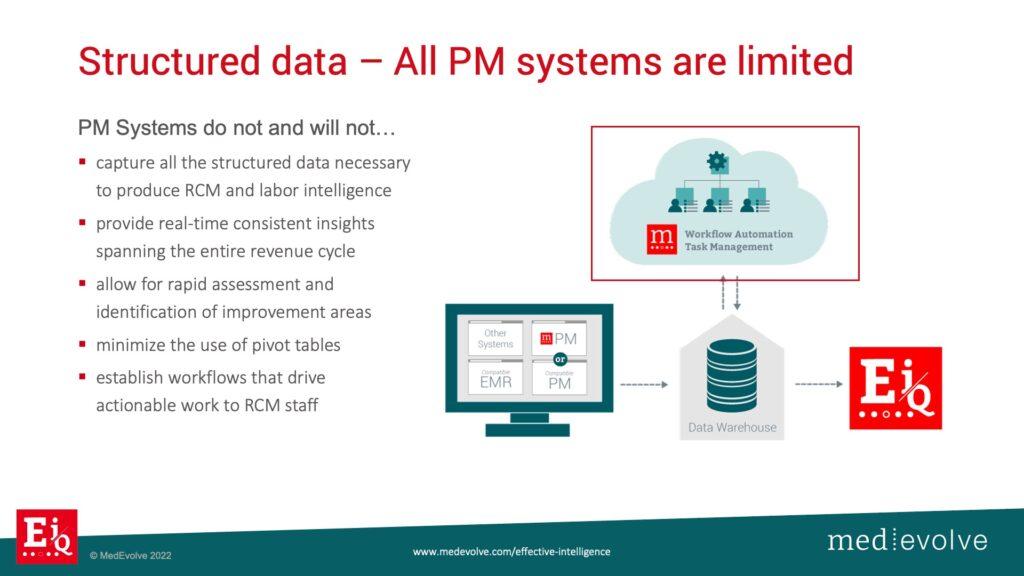 So what do we control? We have a practice management system, but there's limitations. It allows you to schedule, register, check a patient in, send a claim out the door and hopefully get paid. What it is not designed to do, and will never be designed to do, is use the additional, reportable, structured data to measure the effectiveness of the staff. Margins are getting crushed by a lot of different areas, but labor cost can be reduced. So, how do you lean out your team to make sure that whoever is there is highly incentivized and highly motivated to work for you? What your PM system is missing is the workflow automation component that captures the labor effectiveness scores.
Where are humans getting involved in the revenue cycle and how to measure and control it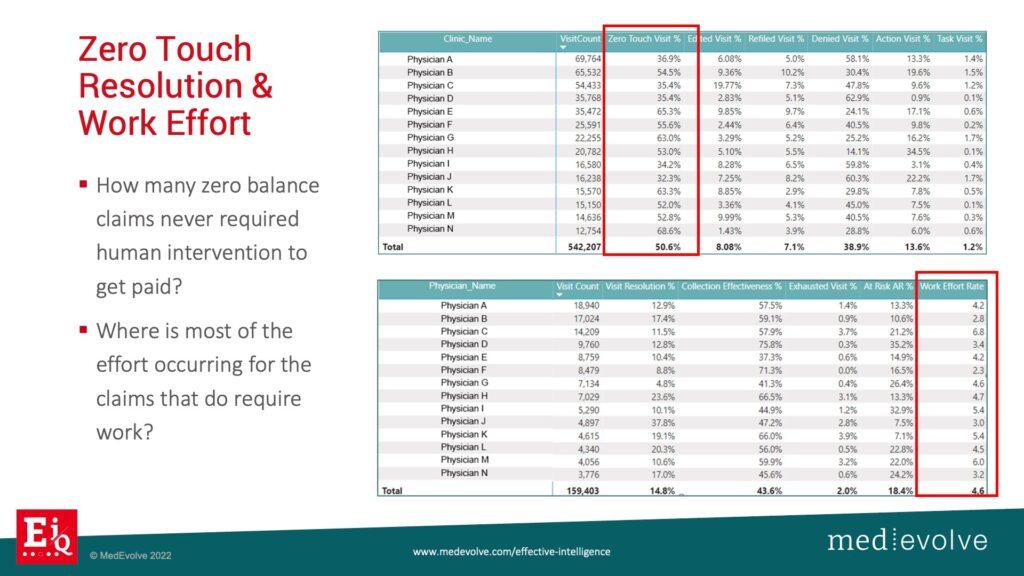 MedEvolve has built this fully integrated workflow automation front, middle, back rev cycle with integrated task management to capture the structure data necessary to pair with the limited data set from the transactional PM system to produce intelligent algorithms. Now, we can evaluate zero touch resolution rates. How many claims went out the door and got paid without a single human getting involved? You can't know that with just your practice management system, but you should know that and how to fix it. We just discussed how expensive people are and if you have ineffective people on your payroll, your net collection rate will not achieve benchmark. It is more important than ever to know where humans are having to get involved compared to when they are not.
Many healthcare executives are evaluating robotic process automation (RPA) as the answer. RPA is a solution to some of the revenue cycle challenges, but it can't tell you where the problems actually are. The healthcare revenue cycle will never go people-less, especially when insurance companies don't want to pay you. So, you need to be able to measure the extent that people are getting involved in the different areas of revenue cycle. Is it clearinghouse edits, refiling, denials? It could also be the decentralized internal chatter getting lost in process.
Effective Intelligence brings the entire revenue cycle together under one platform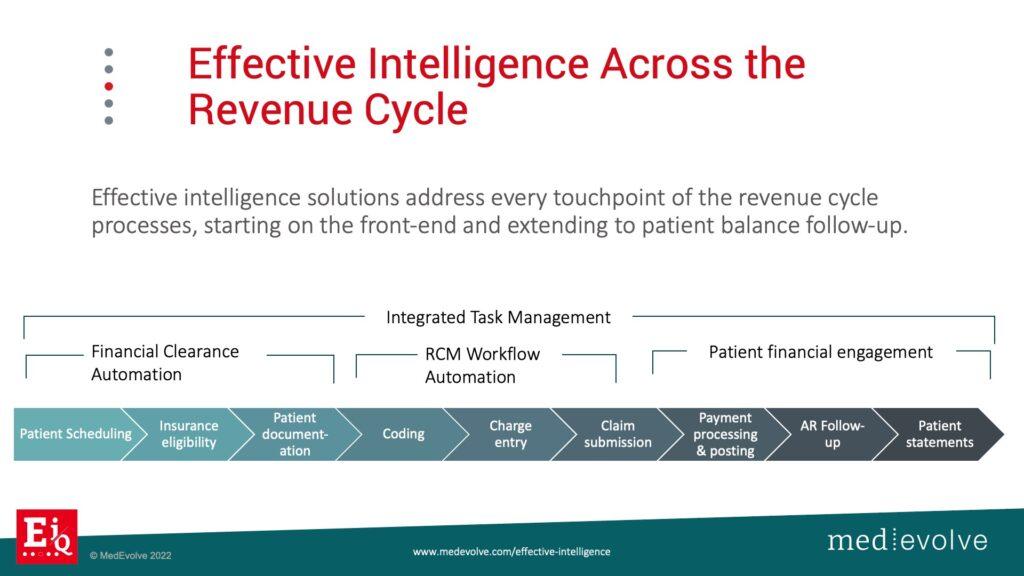 We deliver a fully integrated workflow automation system that starts with your financial clearance process, which is by definition is your pre-registration teams that make sure that the patient is verified with benefits eligibility, the correct order of insurance is identified, a pre-auth referral is in place if needed, and prior balances are collected. Our financial clearance workflow organizes the process into checkpoints and alerts prior to visit, because you cannot afford to see people for free anymore. So once you have a framework here, then you add the task management and centralized internal communication. Any single question or initiative that is being asked of somebody to help get a claim paid has to be measured and it has to be tied to the visit. Then, you will have a complete accounting and history of every single touch by every single human that went into getting your claims paid. As a result, you have the data necessary to incentivize your staff for exceptional performance.
Effective Intelligence real-time revenue cycle analytics tell the story that you need to hear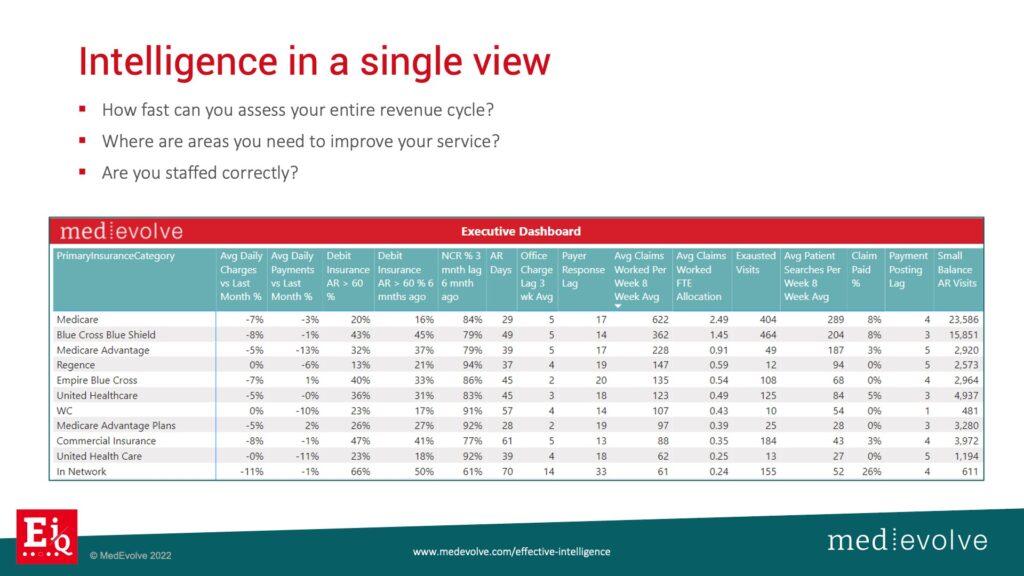 We are able to produce many different views with our real-time analytics that brings the story to you and allows you to put an action plan in place. Notice Medicare on the view above. The debit insurance balance is good at 16%. I'd prefer it to be under 10% if possible. Take a look at Blue Cross – 45% is way too high. I can reallocate the number of FTEs that have been assigned to these payers. Do I need to put more FTEs on Blue Cross versus Medicare? So how do I bring relevant structured data information to the surface to allow me to make quick decisions?
Effective Intelligence includes weighted values to make quick comparisons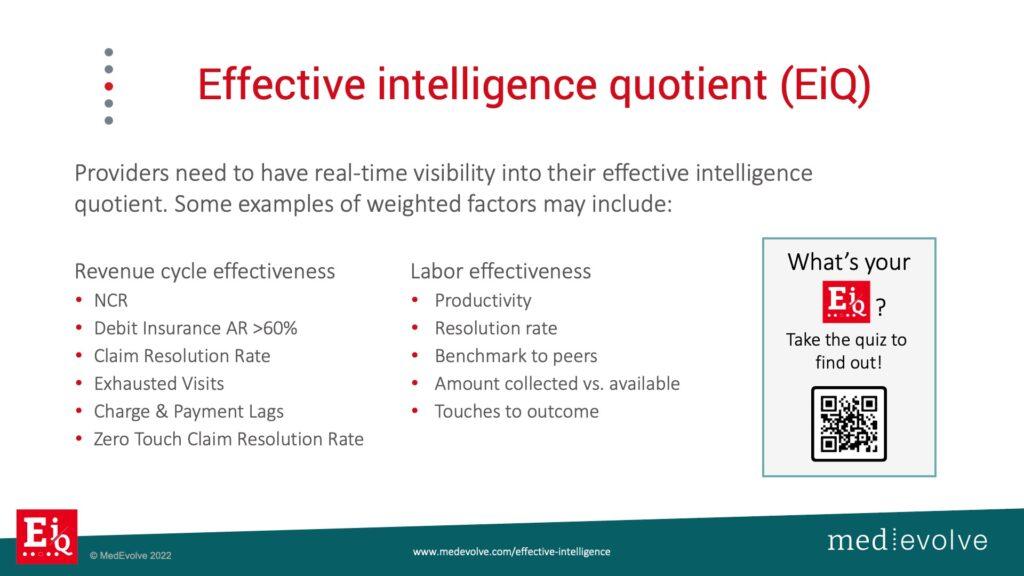 That's where the quotients come in. MedEvolve is investing in R&D data scientists looking at claims profiling, looking at all the different actions that are taken, the statuses, the outcomes, measuring those outcomes, and really trying to come up with ways to quantify where you need to focus. Which employees need to be put on a performance improvement plan, which need to be promoted and rewarded? What areas of your revenue cycle are struggling? Is it a particular physician, nursing unit, or payer that is causing issues? I want these answers coming to you proactively. Once you can bring good structured data that goes far beyond the capabilities of your practice management system, you have the ability to start really looking at scientific and intelligent information. Then when you use that, you become effective. That's really the premise of effective intelligence.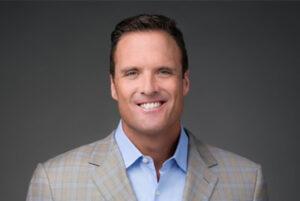 Matt Seefeld, Executive Vice President at MedEvolve, brings over 24 years of management consulting experience in the healthcare industry. He has extensive expertise in the assessment, design and implementation of process improvement programs and technology development across the entire revenue cycle. Matt began his career with Stockamp & Associates, Inc. and worked for both PricewaterhouseCoopers LLP and Deloitte Consulting LLP in their healthcare and life sciences practice lines. In 2007, he developed a business intelligence solution and founded Interpoint Partners, LLC, where he served as Chairman and Chief Executive Officer. In 2011, he sold his business to Streamline Health Solutions where he then served as Chief Strategist of Revenue Cycle followed by Senior Vice President of Solutions Strategy until 2014. Matt ran global sales for NantHealth and provided consulting services for healthcare technology and service businesses nationwide, prior to joining MedEvolve full-time.